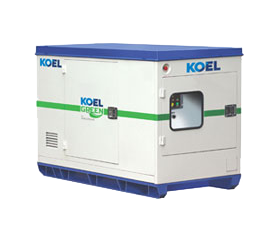 D.G. Sets
Where are Gensets used?
They are usable at any place that requires electricity. These can be installed at all commercial and residential settings.
What does a Genset consist of?
Genset consists of a diesel engine and an alternator, coupled and mounted on a common base frame with batteries, fuel tank, control panel and a silencer. It also consists of an Acoustic Enclosure.
Which types of fuel can be used to run Gensets?
Gensets commonly run on high-speed diesel. They can also run on natural gas, combination of HSD and Natural Gas and Bio Diesel fuel oils.
What approvals are required to run a Genset?
Local Electricity Board / Power Works Department.
Electrical Inspectorate.
State/Central Pollution Control Board.
What are the different types of control panels used in Gensets?
Manual control panel – The DG set is started and loaded manually.
Auto Main's Failure Panel – In this panel; the main supply is monitored and in case of supply failure the Genset starts automatically and the load is transferred to the Genset. When the main supply is restored the load is transferred to the mains and the DG is shut down.
Synchronizing Panel – These panels are used where 2 or more Gensets are required to run in parallel.
What is an Acoustic Enclosure? Do Gensets require it?
An acoustic enclosure is also referred to as canopy, silent canopy, or sound attenuating enclosure. It works to reduce the sound produced by a Genset. Even though today's gensets have engines that are exceptionally quiet, acoustic enclosures are a legal requirement to keep noise under check. In India, the norms are laid down by the CPCB (Central Pollution Control Board). Due to the increasing emphasis on pollution of various kinds affecting citizens it has become mandatory for all new Genset installations to be provided with Acoustic Enclosure.
In addition acoustic enclosures also function as weatherproof enclosures, protecting the Genset from the elements. This is important as many gensets are located or installed in the open.
Who installs Gensets?
WRT can undertake installation and commissioning job on turnkey basis or only supervision job as per customer's choice.
Who does after sales service of Gensets?
KOEL Authorised service dealers has a full-fledged product support department with countrywide service and spares network to take care of after sales service.